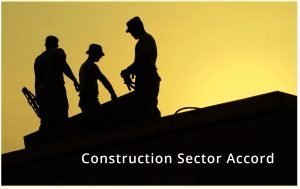 If you are in the Construction Sector, or working with Government, you will know about the Construction Sector Accord.  It sets out the commitment, challenges and priority work areas agreed between the Government and the construction industry in NZ.  Covering far more than health and safety, this is a vast programme that will improve not only the construction sector, but will likely have a flow on affect for all industries into the future. 
 Have a look at the website – it's a good read.
Our vision
A high performing construction sector for a better New Zealand.
Shared goals
Increase productivity
Raise capability
Improve resilience
Restore confidence, pride and reputation
Outcomes for New Zealanders
Safe healthy and durable homes, buildings and infrastructure that support the wellbeing of our communities
Workforce – safe, secure, rewarding careers
Industry customers – functioning competitive market
Industry – sustainable, resilient, successful businesses
Government – a construction sector that supports the wellbeing of all New Zealanders
Guiding principles
Build trusting relationships
Be bold
Value our people
Act with collective responsibility
Priority work areas
Industry-led:
Enhanced industry leadership, collaboration and organisation
Better business performance
Improved culture and reputation
Shared:
Grow workforce capability and capacity
Better risk management and fairer risk allocation
Improved health and safety at work
More houses and better durability
Government-led:
Better procurement practices and improved pipeline management
Improved building regulatory systems and consenting processes
Our pledge
We agree to:
Hold ourselves and each other accountable to this Accord and challenge contrary behaviour
Work together to develop a plan for change that has collective intent
Work differently to build a stronger partnership between government and industry
Promote the Accord and encourage others to commit to it
Engage regularly to discuss and report on progress